Japanese teathings bamboo ladle HISHAKU 41cm Furo-and-Ro Yasaburo Suikaen
Japanese teathings bamboo ladle HISHAKU 41cm Furo-and-Ro Yasaburo Suikaen
Bamboo ladle Hishaku
Size: W16.1inch D of cup 2.1inch (W41cm D of cup 5.4cm)
Weight: 35g
This is one of the important utensil used in the Japanese tea ceremony .
Note: Although this utensil is made by the same craftsman under the same condition, appearance is different one by one because of the material.
-- Introduce Making Bamboo Whisk (Chasen) and a traditional craftsman Mr. Yasaburo Tanimura of Suikaen --

Takayama Tea Whisks by Mr. Yasaburo Tanimura of Suikaen: A traditional art handed down unchanged for the past five hundred years and made with the spirit of crafting things without compromise.
About material
With regards to bamboo which is the raw material for tea whisks, winter is the only time when insects don't approach the bamboo and when their strength is at its peak so they are only felled during this time. After removing the oils by boiling the bamboo in a pot, they are left to dry under the gentle rays of the winter sun. They are then stored for 2-3 years and only good-quality bamboo is used in making tea whisks and tea ladles.
*Harvesting bamboo is only conducted in Takayama or in neighboring bamboo forests.
By taking years to process the materials, unsuitable bamboo crack, or change color with the passing of time, so only good-quality materials naturally rise above the rest.
The movie of making Japanese bamboo tea spoon Yasaburo Tanimura Suikaen.
Techniques that have remained unchanged for five hundred years
Bamboo that has been stored are peeled, and after being divided into sixteen parts with a knife; and depending on the type of tea whisk; the bamboo are finely shaved further, and are shaped and turned into finished products.

*The left side is raw bamboo, and the finished product is on the right.
Each step of the process is divided among craftsmen, and here at Suikaen there are ten artisans who complete the tea whisks through their handiwork.
"Aji Kezuri"
The tines are steeped in hot water, and are then shaved thinner and thinner up until the tips are formed. The tines are then shaped so that the inner parts become rounded.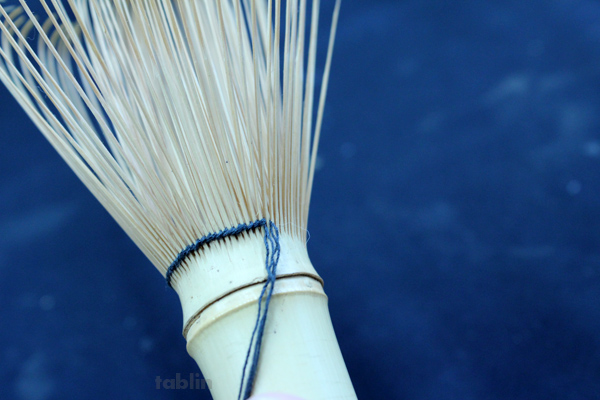 "Uwa ami"
I also tried my hand at the process called "uwa ami." This is the stage wherein thread is woven into each of the tines near the base of the whisk; a rather delicate and astounding task.
"Finishing"
Arranging the tines of the whisk, then finishing off by adjusting its shape.
Takayama tea whisks are made just by using a knife and the fingertips, a highly-acclaimed technique known as "fingertip art."
These traditional techniques manipulate the material into something with the thickness of paper. It not only gives a fine, smooth foaming of tea but it also has durability and a unique texture - a tool of high quality.
Today, aside from industrial products, Japanese traditional products are manufactured and distributed abroad; but there are still a lot of things that can only be obtained in certain areas, just like Takayama tea whisks - a traditional art continuously handed down and made with the spirit of crafting things without compromise.
A tool that is also a traditional art, and the appeal of merit such as the history and culture of a place is probably the reason why many people are attracted to it.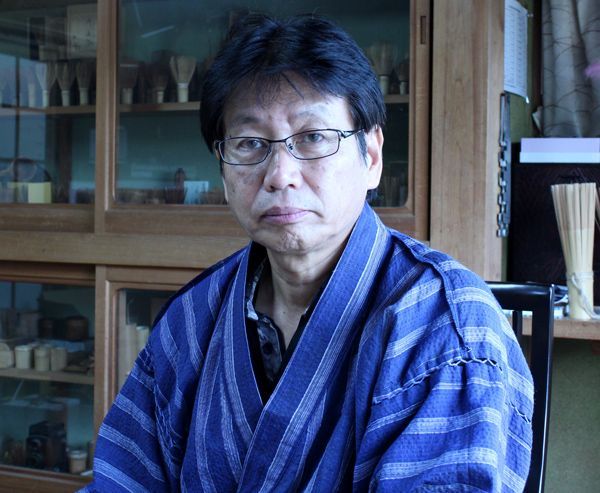 This is Mr. Yasaburo Tanimura, a traditional craftsman and the head of Suikaen. When he was 35 years old, his predecessor passed away at a young age, so he took over Suikaen and has continued preserving traditional techniques.
Item Description
| | |
| --- | --- |
| Condition | brand-new |
| Size | Total length 41cm, Diameter For Furo and Ro: 5.4 cm, Diameter For Ro: 5.8 cm *approx |
| Origin | Made in Japan |
| Note | The Hishaku is not made to use any binding material, please use it be careful. |
Japanese teathings bamboo ladle HISHAKU 41cm Furo-and-Ro Yasaburo Suikaen
selling price: US$56.00 - US$59.00
Prices vary according to options.
Packing Weight: 200g
-
shipping cost
-
Shipping Cost is decided by Total weight."Packing weight" is written on each item page.You can check final shipping cost at"STEP4 Confirm page" of shopping cart.
See the shipping cost and shipping time
here.
-
Handling time
-
We generally shipped your order within the next 1 to 5 business days.
*We will deliver the products immediately as long as they are in stock. You will be notified via email of when an item is backordered or long waiting. Any backordered items will be created after your order. Please note that it takes approximately a month to ship an item.
-
Item pictures
-
The picture showing on the item page is commercial sample. Representative image - work will be similar to piece in picture. Please be aware that the conditions that the actual color, pattern, shape and size may slightly differ from the pictures shown regarding items hand-maded by the artists and making with natural materials. tablinstore, each manufactuerers and pottery artists have stock, but no one are the exactly same. If you feel that this conditions are unacceptable, it may be hard to be satisfied about your order.