SAKAI TAKAYUKI Genbu Japanese s Aonikou Blue 2 steel Sakimaru Sashimi knife 300mm
[
Itsuo Doi model
]
SAKAI TAKAYUKI Genbu Japanese s Aonikou Blue 2 steel Sakimaru Sashimi knife 300mm
-- Features of This item --
" Genbu " graded as highest from Sakai takayuki's brand Blue #2 steel model and they have confidence in quality. The new shape " Sakimaru Sashimi " made with wider blade and finished with a mirror polished, to give a different feeling than standard Yanagiba sashimi knife.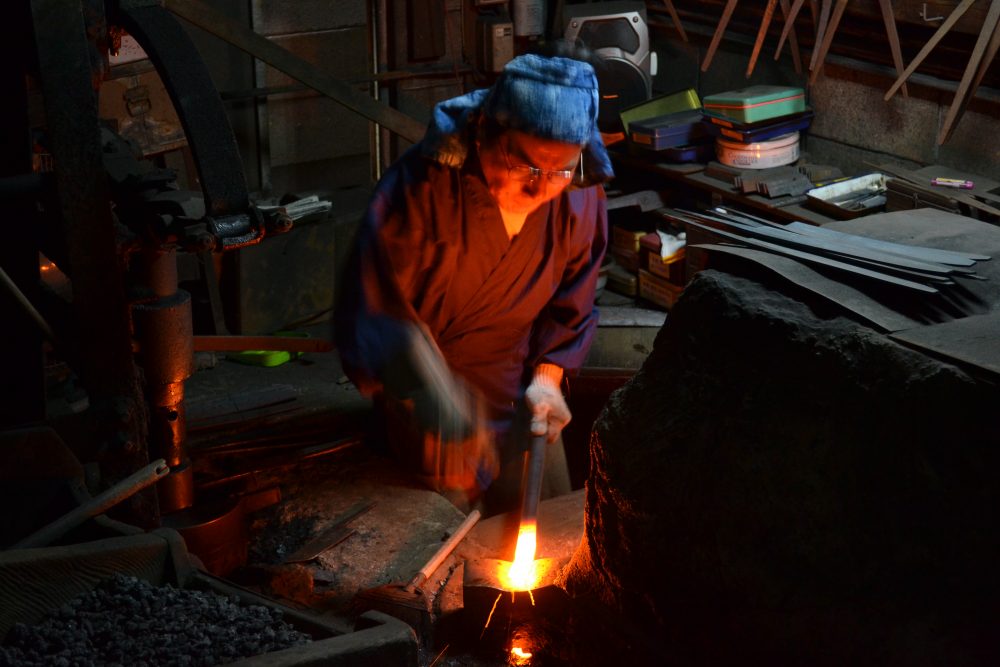 Mr. ItsuoDoi was born in 1948 and at 24 years of age, he became the apprentice of Mr. Keijiro Doi, his father. Following in the footsteps of his grandfather, Mr. Doi was trained in the secrets of his family's craft, continuously producing excellent knives as a knife smith in the Sakai tradition.
Each knife is made using different techniques, and passes through the hands of various craftsmen such as knife smiths and polishers. In addition to traditional techniques, the passion and training of the craftsmen are embedded into each piece, and each one continues to receive high marks as a superior knife.
-- Item number, Type, Blade length -- *approx
02245 Sakimaru Sashimi knife 300 mm
blade width 38mm, blade thickness 2.5 to 4.7mm, handle length 145mm
-- Material --
Blade: Yasuki Blue-2 steel (Aonikou), single edged for right hand
Handle: *Handle: ebony wood (octagonal) *colors varies
Bolster: Water buffalo *colors varies
*Accessory: Scheide wooden saya
*Note: Mirror finish blade has some slight scratch line on the blade.
Item Description
| | |
| --- | --- |
| Note | If item is not in stock, making time is 30 to 60 days. |
SAKAI TAKAYUKI Genbu Japanese s Aonikou Blue 2 steel Sakimaru Sashimi knife 300mm
[
Itsuo Doi model
]
-
shipping cost
-
Shipping Cost is decided by Total weight."Packing weight" is written on each item page.You can check final shipping cost at"STEP4 Confirm page" of shopping cart.
See the shipping cost and shipping time
here.
-
Handling time
-
We generally shipped your order within the next 1 to 5 business days.
*We will deliver the products immediately as long as they are in stock. You will be notified via email of when an item is backordered or long waiting. Any backordered items will be created after your order. Please note that it takes approximately a month to ship an item.
-
Item pictures
-
The picture showing on the item page is commercial sample. Representative image - work will be similar to piece in picture. Please be aware that the conditions that the actual color, pattern, shape and size may slightly differ from the pictures shown regarding items hand-maded by the artists and making with natural materials. tablinstore, each manufactuerers and pottery artists have stock, but no one are the exactly same. If you feel that this conditions are unacceptable, it may be hard to be satisfied about your order.