Shokei Funaki white 2 steel Lacquer wisteria string cord handle Sashimi Sujihiki knife 180mm
Shokei Funaki white 2 steel Lacquer wisteria string cord handle Sashimi Sujihiki knife 180mm
The knives produced by Japanese traditional techniques of Japanese sword, Koshikitanzo(the ancient Japanese way of smith forging).
To pursue easy-grind and toughness of the blade, he mainly uses valuable wrought iron or old aged Japanese steel for base steel, tries not to use modern iron as much as possible. These rare iron was used for buildings and shipbuilding over 100 years ago.
He makes with forge welding to finishing by hand one by one, not using containing blade materials.
-- Item detail --
Sashimi Sujihiki knife 180mm, Cutting edged length 183mm, Total length 315mm, Blade width 34mm, Blade thickness 2 to 3mm, Handle length 125mm,160g *approx
-- Material --
*Blade: white 2 steel, base:soft iron, double edged
*Handle: Japanese Lacquer and wisteria string cord handle, Full tang
*A brand new, Made in Japan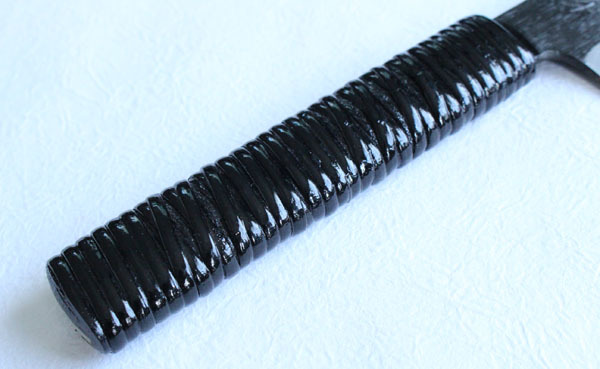 Handle perfected with Japanese Lacquer and wisteria string cord
After rolling up a handle of a full-tang blade with straw, hadredn with a many coating and grinding as well as the lacquer work. The handle has both prevention of water entry and improvement of gripping. This is his original design suggestive of a hilt of a Japanese sword.
About Shokei Funaki
Birth: Oct. 17th, 1972 in Yokohama, Japan
Since his ancestry, both paternal and maternal line, were a swordsmith or designing/processing metal, he yearned for swordsmith since he was a child. While he learnt forging by himself in his teens, interacted with a swordsmith in Sanjo, Niigata. He came to be interested to produce an useful knife. After working at a Japanese restaurant for 3 years, he was apprenticed to a Mr. Teiichiro Yamaguchi in Yoshisada Hamono where is a blacksmith factory originated from swordsmith continued from 300 years. He finally built a blacksmith workshop in Yashiro, Kyoto deep in the mountain where there are Kinkakuji temple.
Trying to use wrought iron or old aged Japanese steel for base steel and avoids the use of modern iron as much as possible.
He is one of the few blacksmiths who makes uneven quality of iron to exclusive knife by high skills and techniques. All procedures, attaching blade and creating handle are made by himself.
He also pays attention of the center of gravity of the blade so that the knife keeping a good balance. It gives easy to hold for everyone.
He also produce Tamahagane making of Japanese nails of ancient times with the method of grafting, knives and short sword of Tamahagame. We unfortunately don't deal in Tamahagane line because of very expensive products.
Shokei Funaki white 2 steel Lacquer wisteria string cord handle Sashimi Sujihiki knife 180mm

-
shipping cost
-
Shipping Cost is decided by Total weight."Packing weight" is written on each item page.You can check final shipping cost at"STEP4 Confirm page" of shopping cart.
See the shipping cost and shipping time
here.
-
Handling time
-
We generally shipped your order within the next 1 to 5 business days.
*We will deliver the products immediately as long as they are in stock. You will be notified via email of when an item is backordered or long waiting. Any backordered items will be created after your order. Please note that it takes approximately a month to ship an item.
-
Item pictures
-
The picture showing on the item page is commercial sample. Representative image - work will be similar to piece in picture. Please be aware that the conditions that the actual color, pattern, shape and size may slightly differ from the pictures shown regarding items hand-maded by the artists and making with natural materials. tablinstore, each manufactuerers and pottery artists have stock, but no one are the exactly same. If you feel that this conditions are unacceptable, it may be hard to be satisfied about your order.