Natural farming Premium Sencha Japanese green tea Watarai Ise 100g
Natural farming Premium Sencha Japanese green tea Watarai Ise 100g
Chemical free, Fertilizer free, Narural farming Tea
Rich, deep and thick flavor spread in your mouth
Most of Japanese tea farmers has grown green tea leaves with pesticide and chemical fertilizer in response to the rising demand since 1950 at the height of Japan's economic boom. Many of those came to face serious problems from polluted water and soil which affect health and life of their family and local villages.
Mr. Nakamura, who owns tea field, has started to cultivate tea leaves without using chemical since 1985, with increasing demand for safe agricultural products.
*Mr. Nakamura obtains JAS standards for organic vegetables by JAS Registered Certification Organaization. *JAS=Japan Agricultural Standards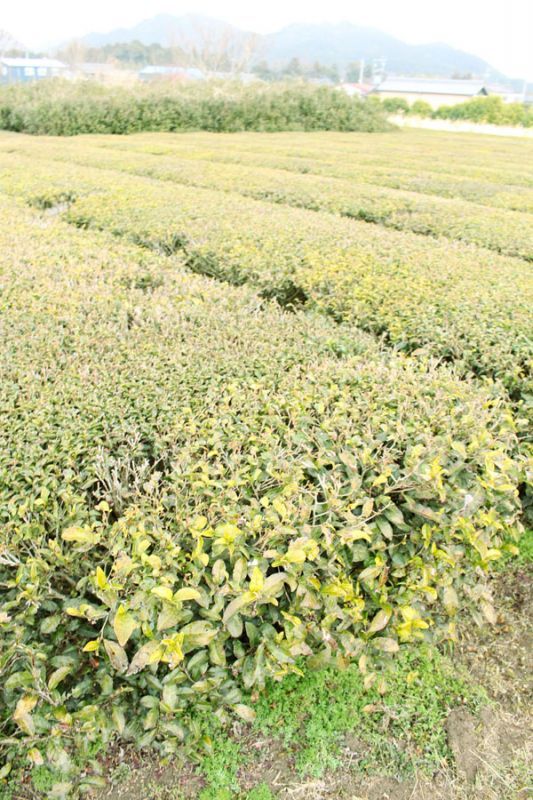 *field covered with bright yellow tea leaves
Furthermore, he has made the shift to cultivate them without using any fertilizer since 2006. Soon after, tea trees got weakened and lost its fertility. Mr. Nakamura could not harvest any tea leaves for 5 years. But it gradually went to bloom beautiful flowers and seed every year. Although it is on a small-scale comparing what it was, it finally grow as thrive tea trees so that we can enjoy rich, deep and thick taste.
Chemical free, Fertilizer free
We offer an unique and sincere experience of genuine taste green tea made from over 60-years-olds tree.
Cultivar and processing
Only using native species : the seeds of tea tree which existed naturally since old times.
Mr.Nakamura, a family-run tea farm, also operates a tea processing factory which takes whole process, harvesting, steaming and drying, to make finished product.
This exclusive natural, healthy and genuine taste green tea is made by reducing processing time as much as possible.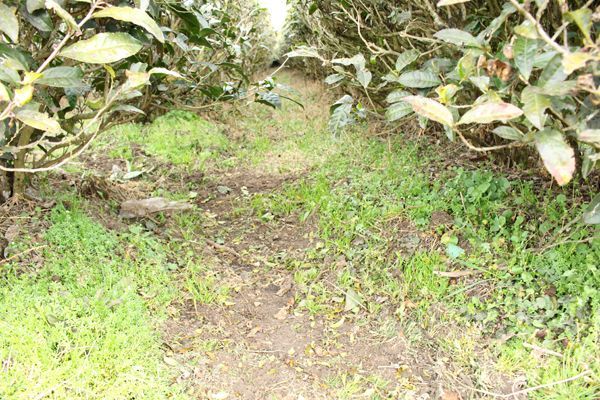 Fertilizer free
You can see the farm is overgrown with weeds by picture above. A superior natural environment is formed by leaf mold piled with pulled weeds and dead tea leaves.
WATARAI tea in ISE
Watarai tea is well known as one of ISE tea as for the third tea production in Japan.
Thanks for its rich natural environment at the foot of Suzuka mountain range, it has long history.

*No pesticide and No chemical fertilizer
*Net weight 100g /3.52oz
*Brand: Nakamura natural farming
*Growing Region: 100% in Ise Watarai, Japan
*Cultivar(s) 100% native species tea (Zairai), 60 year-old tree
*Steaming: short time
*Year Harvested: May 2021
*Expiration date: about 6 months
*Please note that the packaging may change without notice.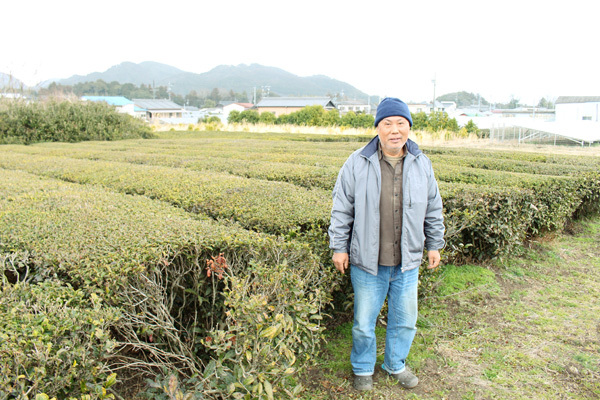 Mr. Nakamura
-- What is green tea? --
Green tea refers to unfermented tea leaves wherein fermentation is stopped right after picking.
"Green tea" is the general term given to all kinds of Japanese tea. "Sencha" or regular green tea,
"Gyokuro" or the highest-quality green tea and "Houjicha" or roasted green tea all fall under the generic term "green tea."
-- "Sencha" or regular tea --
Sencha is the most widely drunk tea by the Japanese. Freshly-picked tea leaves are steamed and roasted,
and the fermentation process is stopped by the heat from steaming and roasting.
Before picking, tea leaves are allowed to bathe in the sun, and through photosynthesis,
the tea's astringent components called catechin increase, resulting in a tea with a slightly astringent, refreshing scent and a clean, clear taste.
-- Recommended way to make this tea --
1.Place 1 tea spoon. (about 5g) in tea pot.
2.Add 150 to 220 ml of boiling water.
3.Brew for about 30 sec.
Hint:Don't shake the tea pot while brewing.when serving,pour out every last drop.
*Up to 3 pots can be made using the same tea leaves because High class Japanese tea.
-- Additional information on how to brew tea --
Tea is a matter of personal taste, so we would be happy if you could find a preparation method that suits you best.
If you would like a "sweeter" tea, brew it for 40-60 seconds in hot water that is about 75 degrees Celsius.
If you would like a "stronger", more astringent tea, brew it for 30-40 seconds in hotter water that is 90 degrees Celsius.
Moreover, if you start brewing at a lower temperature and brew it at higher temperature increments, you can use the same tea leaves three to four times.
Natural farming Premium Sencha Japanese green tea Watarai Ise 100g
-
shipping cost
-
Shipping Cost is decided by Total weight."Packing weight" is written on each item page.You can check final shipping cost at"STEP4 Confirm page" of shopping cart.
See the shipping cost and shipping time
here.
-
Handling time
-
We generally shipped your order within the next 1 to 5 business days.
*We will deliver the products immediately as long as they are in stock. You will be notified via email of when an item is backordered or long waiting. Any backordered items will be created after your order. Please note that it takes approximately a month to ship an item.
-
Item pictures
-
The picture showing on the item page is commercial sample. Representative image - work will be similar to piece in picture. Please be aware that the conditions that the actual color, pattern, shape and size may slightly differ from the pictures shown regarding items hand-maded by the artists and making with natural materials. tablinstore, each manufactuerers and pottery artists have stock, but no one are the exactly same. If you feel that this conditions are unacceptable, it may be hard to be satisfied about your order.