Takayuki Iwai white 1 steel Ibuki Kurouchi black Deba D-shape handle 180mm
Takayuki Iwai white 1 steel Ibuki Kurouchi black Deba D-shape handle 180mm
Ibuki series of premium professional use knives are made of white 1 steel, resulting in excellent sharpness and edged life. Made by Takayuki Iwai who is certified Japanese traditional craft-man in Echizen.
-- Size -- *approx
Deba 180mm (Cutting edged length 180mm)
Total length 325mm, Blade width 53mm, blade thickness 4 to 10mm, 300g
-- Material --
*Blade: White 1 steel, Single edged for right hand
*Handle : rose wood D shape w/ Plywood bolster
*Made in Japan, A brand new
*Note: The blade is coated rust preventive oil and vinyl which are harmless to humans. You can take off to whet by sandpaper and whetstone.
Takayuki Iwai: A Knifesmith Intent on Preserving the Ancient Japanese Way of Hammering and Forging Knives by Hand
Employing the ancient, Japanese traditional techniques of knife making from forge welding (the process of hammering and forging steel and soft iron) to finishing, Mr. Takayuki Iwai is one of the very few knifesmiths who is certified as a Japanese traditional craftsman. He crafts a wide variety of knives - mainly kitchen knives from tuna dissecting knives with blades of more than 60 cm (23.6 inches) long to petty knives, as well as knives for forestry use. Utilizing knife skills of the highest level, he can work with various kinds of steel that are considered to be difficult to work with such as Aogami super and white 1 steel.
Characteristics of an Takayuki Iwai Knives
Knife with a black-finished Kurouchi blade that exhibits strength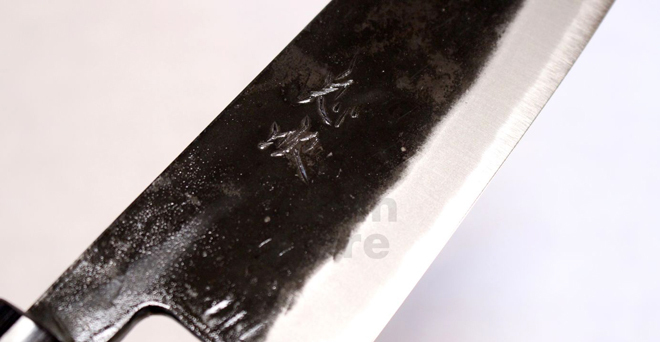 The surface of this knife is covered in a black oxide film during hammering and forging over a fire grate. This process prevents the blade from rusting.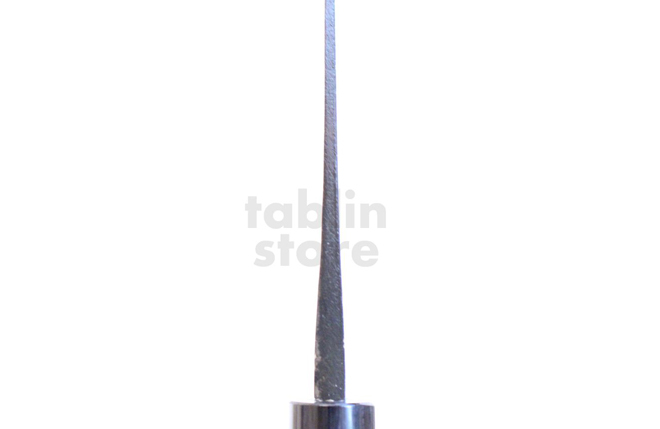 Paying Particular Attention to the Center of Gravity
By creating a thickness near the handle, the center of gravity lies near the user's hand. This gives the knife a good balance, and it is devised in a way that it is a joy to hold.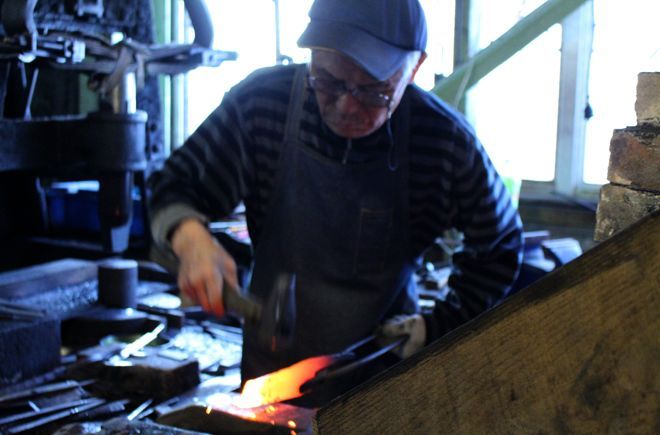 About Iwai Knives
Mr. Genmatsu Iwai, the father of Mr. Takayuki Iwai and the first-generation head established the Iwai Knife Factory in 1961. Genmatsu created kitchen knives as a craftsman exclusively working at a knife wholesaler in Sakai, Osaka, the largest Japanese knife-producing area in Japan. Takayuki too, spent his childhood in Sakai. But because of the war, Genmatsu lost his job, and he moved to Echizen (Takefu City in Fukui Prefecture today) where his relatives lived. He opened a small studio there, and resumed his knifesmithing work. Meanwhile, Takayuki pursued knifesmithing beginning in his teenage years, and since then, has devoted more than 55 years of his life to the craft.
Mr. Iwai conducts almost every process in knifesmithing - from the ancient Japanese way of smith forging (the process of layering steel and soft iron that becomes the blade by hand), the production of the blade, up to the attachment of the handle.
Item Description
| | |
| --- | --- |
| Note | If item is not in stock, making time is 30 to 60 days. Please feel free to inquire about stock. |
Takayuki Iwai white 1 steel Ibuki Kurouchi black Deba D-shape handle 180mm

-
shipping cost
-
Shipping Cost is decided by Total weight."Packing weight" is written on each item page.You can check final shipping cost at"STEP4 Confirm page" of shopping cart.
See the shipping cost and shipping time
here.
-
Handling time
-
We generally shipped your order within the next 1 to 5 business days.
*We will deliver the products immediately as long as they are in stock. You will be notified via email of when an item is backordered or long waiting. Any backordered items will be created after your order. Please note that it takes approximately a month to ship an item.
-
Item pictures
-
The picture showing on the item page is commercial sample. Representative image - work will be similar to piece in picture. Please be aware that the conditions that the actual color, pattern, shape and size may slightly differ from the pictures shown regarding items hand-maded by the artists and making with natural materials. tablinstore, each manufactuerers and pottery artists have stock, but no one are the exactly same. If you feel that this conditions are unacceptable, it may be hard to be satisfied about your order.