Tokoname tea pot kyusu Jinsui Kiwami shudei red komaru 200ml
Tokoname tea pot kyusu Jinsui Kiwami shudei red komaru 200ml
The "KIWAMI" premium red color of this tea pot is made by for a prolonged time firing process. 
Please get a quality feeling and enjoy good tea time.
--
About Jinsui Kiln
--

Jinsui is the one of the most famous tea pot manufacture in Japan. They focus to make Japanese style tea pot which is beautiful red color and high quality made of Jinsui special shudei red cray-pottery.
Beso ceramic tea strainer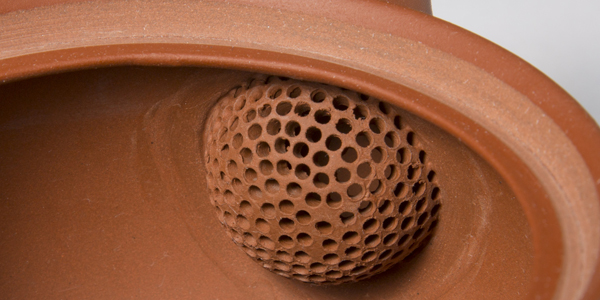 Jinsui Kiwami shudei tea pot is set ceramic tea strainer which is called Beso chakoshi in Japan. The tea strainer has the characteristics of not metallic-tasting and a lot of small hole and made by hand crafted.

History of Jinsui
1900 Yasumasa Watanabe founded Yamaya Yasumasa Watanabe
1971 Yoshiji Watanabe is founded Jinsui
1990 Changes from Yoshiji Watanabe to Toshimasa Watanabe representative
2011 To Co., Ltd. the Jinsui
  Yusuke Watanabe is appointed CEO
Item Description
| | |
| --- | --- |
| Condition | A brand-new, Price is included a teapot. |
| Size | W include hanlde 14 x D 8.5 x H 7.5 m / W 5.5 x D 3.3 x H 3.0 inch *approx |
| Capacity | 200 ml *approx |
| Weight | 160 g |
| Material | ceramics - pottery, inside tea strainer: ceramics - pottery |
| Origin | Made in Japan |
| Note | *not available: microwave, direct fire, to use a metal sponge, automatic dishwasher |
Tokoname tea pot kyusu Jinsui Kiwami shudei red komaru 200ml
-
shipping cost
-
Shipping Cost is decided by Total weight."Packing weight" is written on each item page.You can check final shipping cost at"STEP4 Confirm page" of shopping cart.
See the shipping cost and shipping time
here.
-
Handling time
-
We generally shipped your order within the next 1 to 5 business days.
*We will deliver the products immediately as long as they are in stock. You will be notified via email of when an item is backordered or long waiting. Any backordered items will be created after your order. Please note that it takes approximately a month to ship an item.
-
Item pictures
-
The picture showing on the item page is commercial sample. Representative image - work will be similar to piece in picture. Please be aware that the conditions that the actual color, pattern, shape and size may slightly differ from the pictures shown regarding items hand-maded by the artists and making with natural materials. tablinstore, each manufactuerers and pottery artists have stock, but no one are the exactly same. If you feel that this conditions are unacceptable, it may be hard to be satisfied about your order.