Natural and Hand dyes Mitsuru unisexed T-shirt made in Japan moonlight
Natural and Hand dyes Mitsuru unisexed T-shirt made in Japan moonlight
*Please select size
This item is build-to-order, so lead time to shipping will be 14 to 21 days.



What is "Kusakizome"?
Kusakizome refers to products dyed with natural (plant) dyes without resorting to chemical dyes. Mitsuru Crafts dyes its products in the traditional manner, wherein plants to be used in dyeing are brewed; and care is taken not to raise the temperature of the brewing liquid as much as possible.
- Characteristics of Kusakizome -
Its distinct color changes the longer a kusakizome product is used. Delight in its ancient hue that you will never tire of. Savor the intricate color that can only be found in kusakizome, a hue that is difficult to obtain from chemical dyes.
A dye craft house committed to distinct hues resulting only from natural dyes - Mitsuru Crafts
A dye craft house committed to distinct, natural hues obtained only from natural dyes exists in nature-rich Ohara, which is surrounded by mountains and greenery and is as 40-50 minute drive from the Kyoto city proper. It is called Mitsuru Crafts.
At Mitsuru Crafts, mugwort, buds, branches and other vegetation become the ingredients for kusakizome (plant dyeing); and with painstaking care, craftsmen produce dyed products through kakishibuzome (persimmon tannin dyeing). Many people are charmed by the natural hues, and the fusion of traditional Japanese patterns and new designs.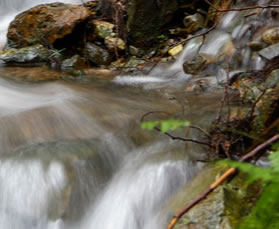 Ohara, Kyoto has the perfect environment for dyeing which uses large quantities of water. Each house draws mountain water to use in daily life, and this system has been handed down from old. Even today, there are many households that use both mountain water and tap water for their needs.
Through the above-mentioned system, an eco-friendly water source free from matter such as sterilization substances found in numerous quantities in tap water has been made possible. Mountain water is also valuable during the brewing of ingredients for kusakizome; and by using clean water in the dye bath, brightly-colored dyes materialize.
In addition, the sole use of natural dyes do not release harmful substances; so Mitsuru Crafts' operations become one with Ohara's natural environment.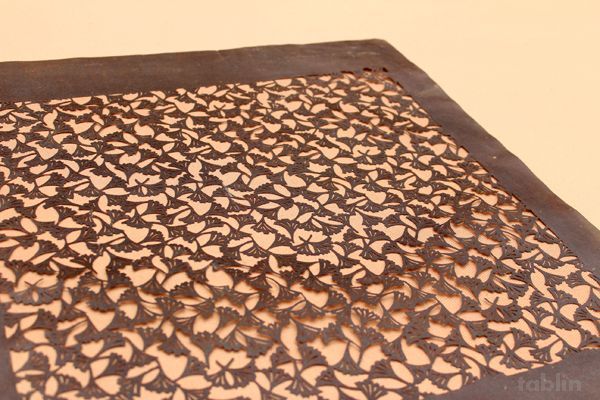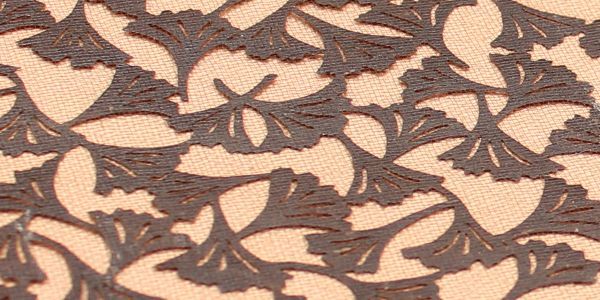 (Photo: Ise Dyed Pattern Paper - a hand-carved pattern paper that is presently difficult to obtain)
With regards to Mitsuru Crafts' noren, traditional dyeing methods such as hand-painting using a brush, hand-carved Ise dyed pattern paper or a silk screen are fused with new techniques.
Dyed fabric painted with multiple layers of natural dye and utilizing traditional techniques steadily changes into a tea-colored fabric with the passage of time. The resulting handcrafted article is unique, a deeply-hued and richly-textured dyed product that is like no other.
Item Description
| | |
| --- | --- |
| Condition | A brand-new |
| Size | Please select size |
| Material | 35% Linen, 65% Cotton |
| Origin | Made in Japan |
| Note | Unisex: This T-shirt can be worn by women and men alike. |
| Note.2 | This item is build-to-order, so lead time to shipping will be 14 to 21 days. |
Natural and Hand dyes Mitsuru unisexed T-shirt made in Japan moonlight
-
shipping cost
-
Shipping Cost is decided by Total weight."Packing weight" is written on each item page.You can check final shipping cost at"STEP4 Confirm page" of shopping cart.
See the shipping cost and shipping time
here.
-
Handling time
-
We generally shipped your order within the next 1 to 5 business days.
*We will deliver the products immediately as long as they are in stock. You will be notified via email of when an item is backordered or long waiting. Any backordered items will be created after your order. Please note that it takes approximately a month to ship an item.
-
Item pictures
-
The picture showing on the item page is commercial sample. Representative image - work will be similar to piece in picture. Please be aware that the conditions that the actual color, pattern, shape and size may slightly differ from the pictures shown regarding items hand-maded by the artists and making with natural materials. tablinstore, each manufactuerers and pottery artists have stock, but no one are the exactly same. If you feel that this conditions are unacceptable, it may be hard to be satisfied about your order.