RYUSEN HAMONO Tanganryu VG-10 forging Damascus knife mirror finish any type
[
Gyuto, Santoku, Nakiri Vegetable, Petty
]
RYUSEN HAMONO Tanganryu VG-10 forging Damascus knife mirror finish any type
--Features of This item--
RYUSEN HAMONO Tanganryu knives are forged by traditional craftsman and its strength was increased to a hardness set at HRC 62.
Also it is also a beautiful knife with a mirror-finish and hammer blade.
-- Size -- approx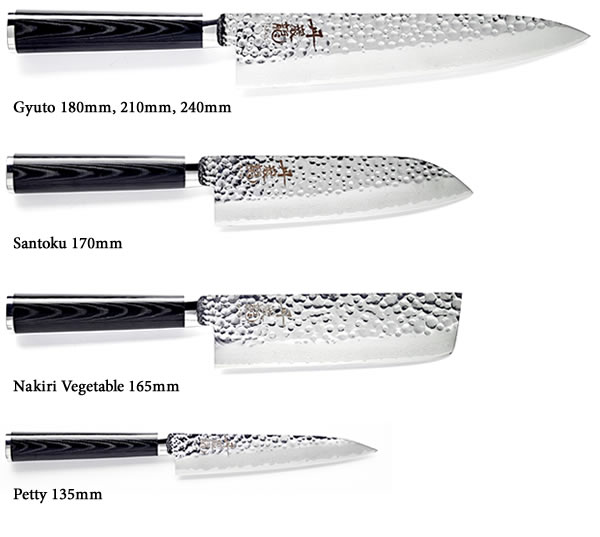 TG- No.101 Gyuto 240mm
TG- No.102 Gyuto 210mm
Total length 350mm, Blade width 45mm, Blade thickness 1.8mm, 205g
TG- No.103 Gyuto 180mm
Total length 312mm, Blade width 43mm, Blade thickness 1.8mm, 190g
TG- No.104 Santoku 170mm
Total length 300mm, Blade width 45mm, Blade thickness 1.8mm, 198g
TG- No.105
Nakiri 165mm
TG- No.106
Petty 135mm
-- Material --
*Blade: VG-10 forged Damascus 33 layers, double edged
(corrosion-resistant steel)
*Blade HRC: 62
*Bolster: stainless
*Handle :Linen Micarta, ellipse shape
*Made in Japan
-- About Ryusen Hamono--
In 1953, Ryusen Hamono began to manufacture blades using traditional Echizen Uchihamono forging techniques which has a history of more than 700 years in Echizen of Fukui prefecture. In recent years they have developed thier own special processing technique for thermal treatment, blade polishing, press and welding in order to seek new possibilities for blades. This has led us to the manufacturing of cutleries such as steak knives. They aim to build a company brand that builds upon the tradition of excellence in craftsmanship in Echizen and that can earn trust and confidence in the world.
RYUSEN HAMONO Tanganryu VG-10 forging Damascus knife mirror finish any type
[
Gyuto, Santoku, Nakiri Vegetable, Petty
]
selling price: US$135.00 - US$245.00
Prices vary according to options.
Packing Weight: 200g
-
shipping cost
-
Shipping Cost is decided by Total weight."Packing weight" is written on each item page.You can check final shipping cost at"STEP4 Confirm page" of shopping cart.
See the shipping cost and shipping time
here.
-
Handling time
-
We generally shipped your order within the next 1 to 5 business days.
*We will deliver the products immediately as long as they are in stock. You will be notified via email of when an item is backordered or long waiting. Any backordered items will be created after your order. Please note that it takes approximately a month to ship an item.
-
Item pictures
-
The picture showing on the item page is commercial sample. Representative image - work will be similar to piece in picture. Please be aware that the conditions that the actual color, pattern, shape and size may slightly differ from the pictures shown regarding items hand-maded by the artists and making with natural materials. tablinstore, each manufactuerers and pottery artists have stock, but no one are the exactly same. If you feel that this conditions are unacceptable, it may be hard to be satisfied about your order.