Noren Mitsuru Japanese linen door curtain kusakizome polka dot 88 x 150cm
Noren Mitsuru Japanese linen door curtain kusakizome polka dot 88 x 150cm


What is "Kusakizome"?
Kusakizome refers to products dyed with natural (plant) dyes without resorting to chemical dyes. Mitsuru Crafts dyes its products in the traditional manner, wherein plants to be used in dyeing are brewed; and care is taken not to raise the temperature of the brewing liquid as much as possible.
- Characteristics of Kusakizome -
Its distinct color changes the longer a kusakizome product is used. Delight in its ancient hue that you will never tire of. Savor the intricate color that can only be found in kusakizome, a hue that is difficult to obtain from chemical dyes.

A Commitment to High-Quality Dyed Fabric
Mitsuru Crafts utilizes hand-pulled, hand-woven linen. Savor its products' natural feel that machine-woven fabrics do not have. In a similar fashion, its cotton craft products also utilize hand-pulled, hand-woven cotton.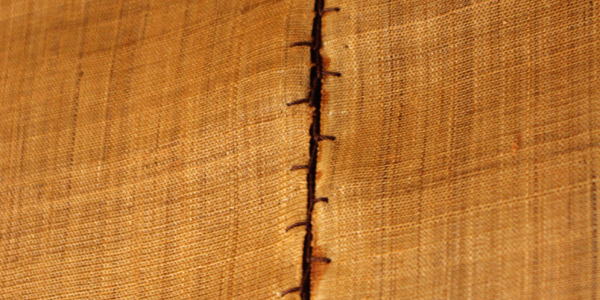 Cross-stitching
The sewn parts of Mitsuru Crafts' noren (a split curtain at a shop's entrance bearing its name) which includes the noren's upper part and the parts at the left and the right that are sewn together are stitched using cross-stitching. The stitched parts look beautiful, and has the characteristic of helping in preventing kinks. These parts cannot be sewn by a sewing machine - each piece is carefully sewn by highly-skilled craftsmen.
A dye craft house committed to distinct hues resulting only from natural dyes - Mitsuru Crafts
A dye craft house committed to distinct, natural hues obtained only from natural dyes exists in nature-rich Ohara, which is surrounded by mountains and greenery and is as 40-50 minute drive from the Kyoto city proper. It is called Mitsuru Crafts.
At Mitsuru Crafts, mugwort, buds, branches and other vegetation become the ingredients for kusakizome (plant dyeing); and with painstaking care, craftsmen produce dyed products through kakishibuzome (persimmon tannin dyeing). Many people are charmed by the natural hues, and the fusion of traditional Japanese patterns and new designs.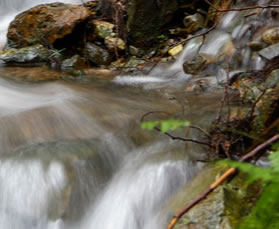 Ohara, Kyoto has the perfect environment for dyeing which uses large quantities of water. Each house draws mountain water to use in daily life, and this system has been handed down from old. Even today, there are many households that use both mountain water and tap water for their needs.
Through the above-mentioned system, an eco-friendly water source free from matter such as sterilization substances found in numerous quantities in tap water has been made possible. Mountain water is also valuable during the brewing of ingredients for kusakizome; and by using clean water in the dye bath, brightly-colored dyes materialize.
In addition, the sole use of natural dyes do not release harmful substances; so Mitsuru Crafts' operations become one with Ohara's natural environment.
At Mitsuru Crafts, hues which become the base color are dyed into fabrics utilizing brush dyeing, a traditional technique.
What is "Hikizome"?
Hikizome is a dyeing method that utilizes a brush to paint the dye on the fabric. Because a long piece of fabric is dyed using a brush, dyeing the whole fabric in a uniform color requires an extremely high level of skill.
If too much dye is used, mottling occurs, or the fabric blackens thus extreme care is given during the process.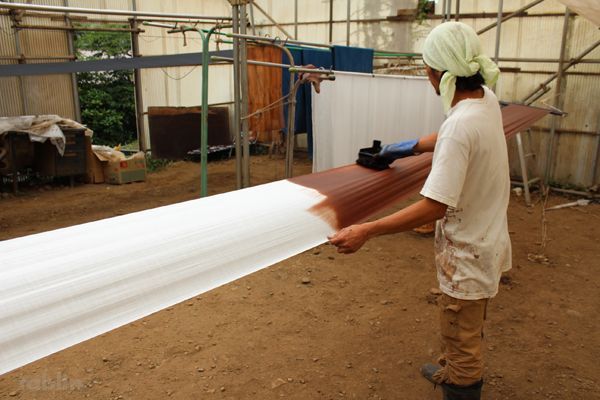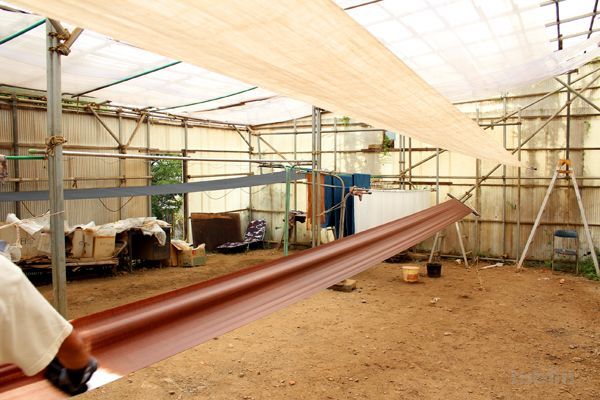 At the craft house, a fabric measuring more than ten meters is stretched and dyed by hand using a brush. Depending on the temperature and humidity, the dye is adjusted which relies on the instincts of a well-seasoned craftsman.
Taking care to avoid wrinkles, the fabric is steadily stretched to an optimal state on a stretching rod.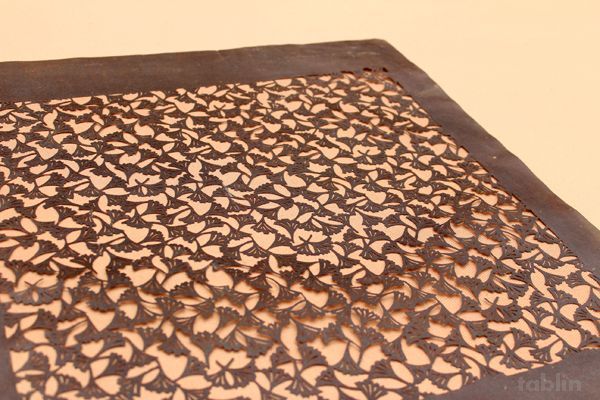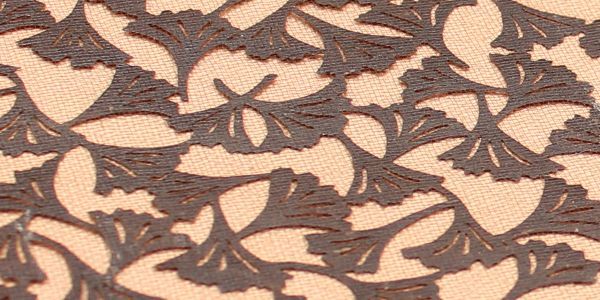 (Photo: Ise Dyed Pattern Paper - a hand-carved pattern paper that is presently difficult to obtain)
With regards to Mitsuru Crafts' noren, traditional dyeing methods such as hand-painting using a brush, hand-carved Ise dyed pattern paper or a silk screen are fused with new techniques.
Dyed fabric painted with multiple layers of natural dye and utilizing traditional techniques steadily changes into a tea-colored fabric with the passage of time. The resulting handcrafted article is unique, a deeply-hued and richly-textured dyed product that is like no other.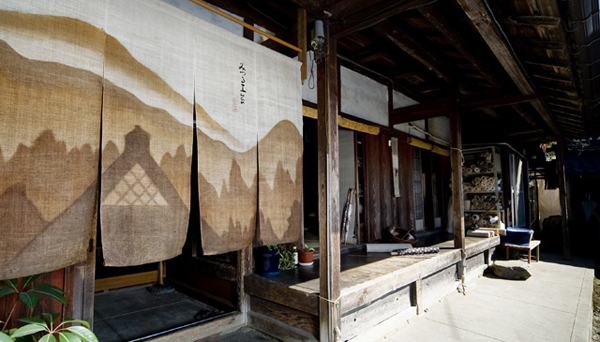 How to care of Noren
Pour the plenty of lukewarm water into a bigger container and dissolve the neutral detergent that does not contains neither fluorescent agent nor bleach. The amount of detergent is same amount as any other laundry.Please wash separately to prevent color transfer.
Gently press water out of fabric without rubbing (Do not soak for a long time).
Do not squeeze.
Wrap by such as bath towel and dehydrated by washing machine.
While dehydrating in washing machine, if protrude from towel, it could cause of whiten by rubbing.
Smooth out while hanging the laundry out.
Ironing. Cotton and hemp are possible to press by high temperature.
History of Noren - traditional Japanese fabric dividers
In the first place Noren were face of shop with dyed logo or family crest on the fabric.Because of being exposed to the eyes of many people, people in those days kept Noren very carefully.
The city of Kyoto at that time, there were so many housing that has been called "the bed of eel".That's why Noren were essential for this type of housing.This is not only preventing the house visible from the outside.But in winter it's for protecting from cold wind, and in summer it's to generate coolness by Noren's swinging by the wind.Noren were closely related to people's lives.
As years went by, we rarely can find Noren at home.Just because of that, fashion and function of the Noren do not mean they are no longer needed.Rather, Noren have atmosphere of calm and a sense of healing, and it would be necessary to our modern life.In addition, Noren would be match with our modern life and bring us sense of warmth.
Because in our modern life it is easy to forget the old tradition, we would like to recommend living with Noren.
Item Description
| | |
| --- | --- |
| Condition | brand-new |
| Width | 34.6 inch (88 cm) |
| Height | 59.1 inch (150 cm) |
| Material | 100% Linen |
| Origin | Made in Japan |
| cut line of Noren | one-line center |
| Note | Hand-dyed. One vertical slit cut. Price of a noren, not included bar. |
| Note.2 | Build to order, This item handling time is about business 10 to 20 days |
Noren Mitsuru Japanese linen door curtain kusakizome polka dot 88 x 150cm

-
shipping cost
-
Shipping Cost is decided by Total weight."Packing weight" is written on each item page.You can check final shipping cost at"STEP4 Confirm page" of shopping cart.
See the shipping cost and shipping time
here.
-
Handling time
-
We generally shipped your order within the next 1 to 5 business days.
*We will deliver the products immediately as long as they are in stock. You will be notified via email of when an item is backordered or long waiting. Any backordered items will be created after your order. Please note that it takes approximately a month to ship an item.
-
Item pictures
-
The picture showing on the item page is commercial sample. Representative image - work will be similar to piece in picture. Please be aware that the conditions that the actual color, pattern, shape and size may slightly differ from the pictures shown regarding items hand-maded by the artists and making with natural materials. tablinstore, each manufactuerers and pottery artists have stock, but no one are the exactly same. If you feel that this conditions are unacceptable, it may be hard to be satisfied about your order.