Hagi ware Senryuzan climbing kiln Japanese vase square shikaku torite hanaire H28cm
Hagi ware Senryuzan climbing kiln Japanese vase square shikaku torite hanaire H28cm
-- About Senryuzan Kiln of Hagi ware ---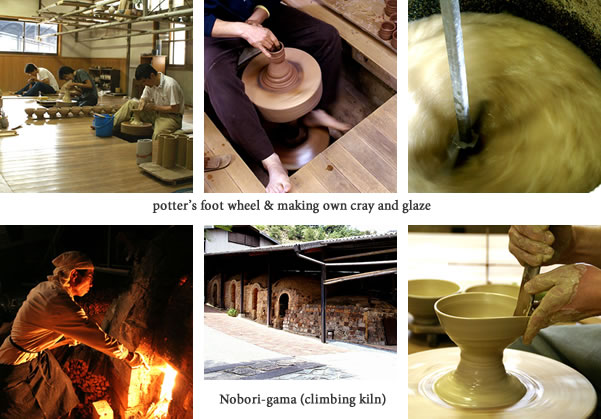 HUNDREDS of kilns make so-called Hagi-yaki, but only a few - fire the old-style wood-burning nobori-gama, or climbing kiln, a long, narrow structure built on a hillside consisting of several consecutive firing chambers. The fire is built in the first chamber, and the flames rise during firing through each chamber in succession. Results are unpredictable, and often the potter will discard a high percentage of the firing. The other types of kilns use gas or electricity, which, because they burn evenly and can be controlled thermostatically, produce more predictable results. Very few of these pieces must be thrown away because of flaws.

Senryuzan, the kiln of the Yoshiga family has four firing chambers (the uppermost one is used for bisque firing), each about 8 feet high, 8 feet deep and 15 feet long. According to Yoshiga Hatao, it is the largest in Hagi. Ido tea bowls, he says, are fired only once - the glaze is applied directly to the raw clay. They are placed in the back of the firing chamber, where the temperature is lowest and most difficult to control (sometimes not a single acceptable Ido bowl comes out of an entire firing). Other Hagi-yaki is fired twice, first without glaze (bisque fired), then glazed and fired again at higher temperatures. Vases and large jars, for which the Yoshiga are known, are fired at the front of the chamber, where the flames are hottest, and show the most contrast in texture and color. Hatao makes large exhibition pieces covered with an opaque white glaze blushed with pink, sometimes streaked with black.

As Yoshiga Hatao the Senryuzan's leader said to us: ''You have to live with Hagi-yaki to see its beauty. It takes time, but it is the time you give it that makes it worth the price.'' Whether or not this accounts for Hagi's high prices, perhaps more than any other of Japan's pottery, Hagi ware acquires what Japanese connoisseurs call ''aji,'' literally, flavor - a richness of texture and color that comes only with age and use. After you buy a piece, you still have a lot to look forward to.
Item Description
| | |
| --- | --- |
| Condition | brand-new |
| Width | 3.3 inch (8.5cm) |
| Height | 11.0 inch (28cm) |
| Material | Japanese pottery |
| Origin | Made in JAPAN |
| Note | Packaged in a wood box. |
Hagi ware Senryuzan climbing kiln Japanese vase square shikaku torite hanaire H28cm
-
shipping cost
-
Shipping Cost is decided by Total weight."Packing weight" is written on each item page.You can check final shipping cost at"STEP4 Confirm page" of shopping cart.
See the shipping cost and shipping time
here.
-
Handling time
-
We generally shipped your order within the next 1 to 5 business days.
*We will deliver the products immediately as long as they are in stock. You will be notified via email of when an item is backordered or long waiting. Any backordered items will be created after your order. Please note that it takes approximately a month to ship an item.
-
Item pictures
-
The picture showing on the item page is commercial sample. Representative image - work will be similar to piece in picture. Please be aware that the conditions that the actual color, pattern, shape and size may slightly differ from the pictures shown regarding items hand-maded by the artists and making with natural materials. tablinstore, each manufactuerers and pottery artists have stock, but no one are the exactly same. If you feel that this conditions are unacceptable, it may be hard to be satisfied about your order.